Our Team
Mr. N G Pandya
Technical Advisor
Mr. Pandya possesses Bachelor's in Science with Chemistry. He has more than 41 years of experience in Environment, Working with Water Treatment Plant, D. M. Plant, Effluent Treatment Plant, Instrument Air, process air supply, Ash pond, pond ash disposal with Utility in Gujarat Narmada Fertilizers Co. Ltd. Bharuch, Gujarat. He is associated with us as Technical Advisor, has enriched database knowledge on Environment. He is mainly involved in jobs related with performance improvement ETP/STP & Erection Commissioning of ETP.
Dr. M C Dash
Technical Expert
Dr. Dash holds Master's in Zoology and Ph.D from University of Calgary, Canada. He has varied experience of 39 years in Environmental services. Dr Dash has worked as Environmental Group Leader for World Bank Funding projects from Panchayatiraj Dept, Govt. of Orissa (through Varun Tech, Bhubaneswar). He has experience in Mining, Cement, Thermal projects. He was Member of Expert Committee on Mining MoEF New Delhi. He is associated with us and provides technical expertise for mining, cement & thermal projects.
Dr. K B Reddy
Technical Expert
Dr. Reddy is Masters in Science with Botany and Doctorate in Ecology. He provided research guidance on ecology and wildlife. He has 27 years of rich experience in Ecology and Biodiversity. He has worked as Senior consultant for Flora, Fauna, Ecology and Soil conservation for EIA of Andhra Pradesh Irrigation Projects, Agricultural Finance Organization, Rajbhavan Road, Somajiguda, Hyderabad. He was member of State Expert Appraisal Committee Andhra Pradesh for 6 years. Dr Reddy is associated with our organization as Technical Expert for EIA mainly for Ecology and Biodiversity and Soil conservation.
Mr. Piyush Modi
General Manager (Administration and Project)
He is Graduate in Science with Chemistry. He is having experience of 19 years with good exposure of Operations & Maintenance Works Water Treatment Plant; Sewage Treatment; Effluent Treatment Plant; Analysis of Water, Wastewater, Air (Ambient & Stack), Solid and Hazardous Wastes; Preparation of Environmental Audit Reports; Erection, Commissioned, Re-commissioned and stabilized Effluent treatment Plants and sewage treatment plants; Carried out work of development of biomass and performance improvement of ETP. He is in our organization for more than 16 years. He is mainly working in our organization as Quality Manager for NABL 17025, he is also co-ordinates with O/M division as well as erection and commissioning division.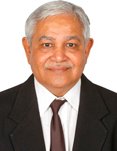 Mr. Vasant Shah
Technical Manager (NABL 17025)
He is in our organization from last 6 years as technical manager in NABL 17025 laboratory. He has 42 years of experience in the field of analysis and monitoring of various environmental parameters as Sr. Chemist at Baroda Rayon Corp. Ltd. He co-ordinates and supervises all the activities related to the testing and analysis of various parameters.
Mr. Virendra Joshi
Sr. Manager EIA
He is Graduate in Chemical Engineering with 31 years of experience. He has worked as Production superintendent in Caprolactum recovery and MEG recovery plant with Baroda Rayon Corp. Ltd as. He has wide experience in Environmental services like Environmental Audit, Environment Impact Assessment and legal consultation and Documentation. He is working as Sr. Manager EIA division and he is Functional Area Expert for Air Quality Modeling and Municipal solid waste. He is involved in EIA and documentation for different sectors like building and construction and township and area development, Synthetic organic chemicals, Petrochemicals, fertilizer projects.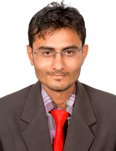 Mr. Mukesh Ghoghari
Sr. Chemist (Monitoring and Lab. Div)
He is Graduate in Science with Chemistry. He is having 4 years of experience in monitoring environmental parameters in ambient air, stack, water, waste water, noise, workplace measurements for various industries.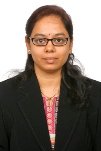 Mrs. Kiran Panchal
Sr. Manager
She is graduate In Chemical Engineering with Masters in Environment. She is having 9 years of Experience in preparing application for Consent to Establish, Consent to Operate & other Legal Environmental services and liasioning with governmental bodies like State Pollution Control Board and Regional Offices of PCB. She also has the experience in design of Effluent treatment plant and Sewage Treatment Plant.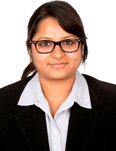 Ms. Krishna Desai
Sr. Manager (Environmental Legal Services Dept.)
She is Graduate in Geology and Master in Environmental Science, having 3 years experience in preparing application for Consent to Establish, Consent to Operate & other Legal Environmental services. Moreover, she has been accredited as Functional Area Associate for areas like Air Quality Monitoring and Municipal Solid Waste.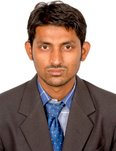 Mr. Mohsin Shaikh
Jr. Engineer (Audit and EIA Div.)
He is Bachelors and Masters of Technology in Chemical Engineering. He has 1 year of experience in production division in Pharmaceutical industry. Moreover he has 1.5 year of experience in Environment and has zeal to learn more and give quality results. With us he is working in Audit report, Application for Environmental Clearance & other legal Environmental services.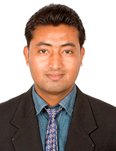 Mr. Prem Mistry
Jr. Engineer (Civil Div.)
He is Graduate in diploma Civil Engineering. He has three years of experience in Structural drawing like R.C.C. and Steel structure drawing. He is working with us for preparation of AutoCAD Drawing and site supervision.